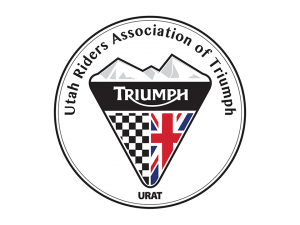 The Utah Riders Association of Triumph is a club dedicated to Triumph motorcycles and the enjoyment of riding!  If you're a Triumph owner, or have an interest in them, you should join us.
---
Click here to read our Bylaws
---
2018 Board of Directors
David getting muddy

When I was a kid I loved all things with wheels. Particularly, I rode my bicycle everywhere. I would have loved to have a motorcycle but my parents wouldn't allow that. In retrospect, that probably wasn't a bad thing because I did some crazy things as a kid. About 6 years ago I decided to buy my first motorcycle, a BMW G650GS. Putt-putt-putt, beep-beep, Putt-putt-putt, beep-beep. That's all my wife heard as I rode it up and down the road behind our house over and over again. I was in love with riding.

A few years (and bikes) later I purchased my first Triumph: a 2006 Sprint ST 1050. The famous triple. What a great motor! It had obnoxious D&D pipes, blue projectors, and other farkles. As fast and fun as the Sprint was, I missed the off road capability of some of my previous bikes. Luckily, Triumph has just jumped in the mid-weight GS game with the Tiger 800XC. The growl of the triple with reasonable off-road capability had me sold. It gained the newest spot in my garage and I have been riding it ever since. Riding has become one of my main passions (outside of skiing) and is a great activity me and my wife can enjoy together. I am so glad that I can be part of this great new club! I look forward to meeting new people who share my passion and the great times we will have!
Mark Chmieleski

Vice President – Mark Chmieleski

I started riding in 2010. Just as I was about to retire out of the Army I bought myself a 2010 Matte Green Triumph Scrambler as a retirement gift to myself. Absolutely loved that bike. I did mostly short rides of less than 100 miles. In 2014 I attended the Hells Canyon Motorcycle Rally in Baker City, OR. I put roughly 1200 miles on in three days and discovered I liked going on longer distance rides much better than shorter rides. Of course that means I need a bigger, faster more comfortable bike. I brought my scrambler up to Spokane, WA for service and while it was being worked on I test rode my current bike, a 2013 Triumph Tiger 1200 XC. I got about a mile down the road before I found myself doing a u-turn back to the dealer to buy the bike.

I moved to the Salt Lake Area in 2014 and was thrilled they had a Triumph club. Since moving here I also have purchased a 2010 BMW K1300 GT that I use when my wife wants to ride with me. I went from putting about 3500 miles a year on my bike to just over 16,000. Besides flying, riding is my favorite hobby and since living in Utah I have been on a lot of great rides exploring the Southwestern United States. I look forward to serving on the board and riding with the great people of URAT!
Craig on his Thruxton

I have been a fan of British bikes and cars since the 1960's. After a long career in the medical manufacturing industry, I was able to retire early a few years ago. I became a corner marshal at the Miller Motorsports Park and my passion for motorsports was rekindled. I purchased a 1960 Austin Healey Sprite which is a lot of fun. Several of my friends were bike people and kept talking about the "smile factor" involved in motorcycling. This plus working the AMA road races and the World Superbike races, led me to Triumph motorcycles.

My first Triumph was a jet black 2010 Bonneville which I equipped with a 2 into 1 Arrow exhaust system. This was a great bike and I hated to give it up but I lusted for a Thruxton. Late in 2013, I bought a Brooklands green 2013 Thruxton. I belong to the Triumph Owners Motorcycle Club, The Utah British Bike Club, the Sports Car Club of America, the Bonneville Austin Healey Club and the Utah Salt Flats Racing Association. I'm happy to be involved in the establishment of the Utah Riders Association of Triumph and look forward to making many new friends and participating in many fun events.
Mike and his Trophy

Treasurer – Mike Evans
I grew up in the road racing world of the SCCA. I traveled around with my dad who raced the first race car I knew: a 1957 Maserati 200Si. When my uncle came back from Vietnam, my dad retired from racing so he could help my uncle. I continued to love anything with wheels, especially British cars. To me there really are no other sports than motorsports. Unfortunately, at that point I was still too young to drive. So that is why I picked up a camera. I started taking pictures when I was 8 and never stopped. In 1983, I joined the US Army as a photographer doing all types of photos. For the last twenty years I have been mostly focusing on auto racing.

I started riding motorcycles around 13 on a Penton 125 dirt bike. About that time my dad bought his cousin's 1975 Norton 850 Commando. At 15 I started borrowing the Norton which got me into street riding. That really started my love for bikes. For my graduation gift my mom and dad paid for half of a brand new 1983 Suzuki GS550ES. I bought my next new bike two months later: a 1982 Suzuki GS550M Katana that I planned to keep as a collector's item. Less than five months after I got the ES I decided to try to roll it up in a ball in my neighborhood at 100 mph. I worked on rebuilding that bike every time I came home on leave over the next few years and finally finished it a couple years later. My collector's item Katana did not last long, either. After my dad dropped it on a road trip to Mexico I was ready to put it out to pasture. I sold both bikes and then went without a bike for 11 years. My next bike was a 2006 Honda VTX which really pushed me into finding a better bike. That led me to BMW and Triumph. I decided to go back to the Brits and bought a new Trophy. It has been one of the best rides I've had the pleasure to ride. One day I hope to have the Norton back together and sitting next to the Trophy. Oh, by the way, the Trophy is governed at 137mph. Just an FYI.
Dave on his Scrambler

When it comes to motorcycles, I'm a relative newbie. I've always been a "car guy." I've owned, built, broken, and fixed, far too many cars and trucks since I was old enough to drive. My interest in automotive engineering, mechanics and design, has recently overflowed into an interest in motorcycles as well.

In the fall of 2013 I took the MSF course, and then went looking for my first bike, a cruiser, probably rhyming with Marley Jamison. Luckily my loving and thrifty wife steered me towards a more sane first ride, a Kawasaki Vulcan 900 Cruiser. I rode it deep into winter, but kept finding enjoyable roads by my house that went from pavement to dirt, just when they started getting fun.

In January I bought a Triumph Scrambler, and have been amazed at how much fun it is for the kind of riding I do. I'm probably going to keep a cruiser in the garage as well, since my commute is over 70 miles per day, and my wife is more comfortable on the back of the cruiser as well. I have my eye on the new Thunderbird LT, just don't tell my wife.
In Memoriam
Jeff and one of his many bikes

Club Ambassador – Jeff Thurmond

The summer after my second year in college I had a job as a gas station attendant, back when someone would actually come out to your car and pump the gas and clean the windshield. The assistant manager had a re-painted 650cc Triumph Trophy; said it was a 1961. He gave me a ride one day and I was instantly in love. Having survived the Lucas electrics of a TR-3 and MGA, I bought the Triumph motorcycle from him a few weeks later and passed my motorcycle license on a borrowed Cushman scooter since the Triumph scared me the first few weeks I had it.

I learned later the motorcycle Steve McQueen rode in the Great Escape was also a 1961 Triumph TR6 Trophy decked out to emulate a BMW R75. The next year I sold the Triumph and got a used Bultaco. Clearly I knew nothing about motorcycles as evidenced by getting a Spanish build off-road bike. I had only fallen a couple of times on the Triumph Trophy and being in Salt Lake City with lots of hills and mountains, I wanted to learn to ride off-road. I spent more time on the ground than on the Bultaco and learned that I had zero off-road ability. Sold it the end of that summer and got a used Triumph Trophy the next year.

Over the years I moved a few times and it seemed there was always a motorcycle in my life. Riding a motorcycle became a part of my life and who I am. I still have no off-road skills but that has not dampened my enjoyment of pavement riding. I am glad I moved back to the Salt Lake area as the roads here are wonderful with little traffic. I clearly have a passion for riding and know that sanity and mental freedom is achieved on two wheels.