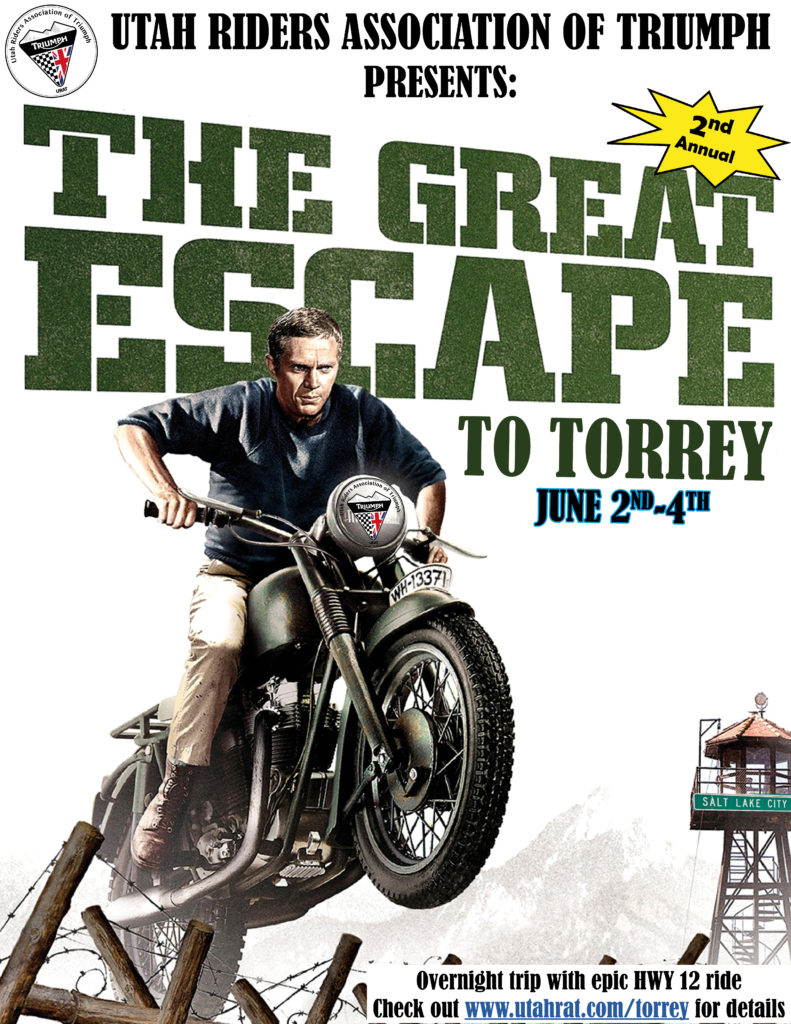 Last year's Torrey trip was so much fun, we're doing it again!
The Great Escape to Torrey on June 2nd-4th!
We'll be meeting at Triumph of Utah at 9:30am and leaving at 10 AM on Friday, June 2nd.
We'll be riding a beautiful route that takes us over the amazing high altitude Energy Loop to Huntington.
Once in Torrey we will set up our base camp at Thousand Lakes in Torrey. We have made some reservations, and now we need riders to commit to them.
Camping Cabins – $78.20 for 2 nights, linens are $10 extra.
Cabins include 2 full size beds (may have option for a bunk bed)
Tent Sites – $40max. for 2 people
May be able to put multiple tents in one site, and split cost.
On Saturday URAT will provide members breakfast at the Broken Spur's restaurant (if you're not a member you can sign up on the trip for just $20). After breakfast we will travel on the famous highway 12 around Boulder Mountain to the north side of Bryce. If you've never been on this road you are in for a real treat. Some describe this as the best motorcycle road in the west. We'll get lunch along the way so bring your wallet. At Bryce we will head north on UT-22/62 through John's Valley and back around Boulder Mountain to Torrey. After Dinner we'll sit around the campfire and tell stories of an amazing day. Sunday it's back to Salt Lake.
Please RSVP By 4/30
You're also welcome to stay anywhere else in the Torrey area, but please RSVP so we can plan
Make your reservation ASAP as everything fills up quick in Torrey!
To reserve a spot, and to RSVP for the weekend send an email to PRESIDENT@UTAHRAT.COM with the following information:
Your name
# in your party
Where you will stay (Thousand Lakes – and what accommodations you're looking for – or your own hotel room)